COMPETITION INTRODUCTION
The Competition – Introduction context is designed for coaches of athletes moving from the FUNdamentals to the Learn to Train and Train to Train stages of long-term athlete development.
For Softball Alberta Provincial Championships in categories that lead to a Western or Canadian Championship, at least one coach on the provincial roster must be Competition Introduction Certified. Certified status is granted once a coach has completed the Foundations of Coaching Softball pre-requisites,  attended all portions of the Softball Competition Introduction clinic, completed their On Field Practice Evaluation and completed their Make Ethical Decisions Online Evaluation. Trained status is granted once a coach has completed all the aforementioned steps except the On Field Practice Evaluation.
There are additional coaching requirements for teams who qualify for Canadian Championships. The Head Coach must be Comp Intro Certified and Asst Coaches (or any other coach wishing to go on the field) must be Comp Intro Trained.
There are now two clinic formats offered. A Hybrid clinic pathway involves 3 online modules (scheduled over Zoom) and 1 hybrid weekend held in person for the remaining modules. The online modules can be completed before or after attending the hybrid weekend. The other format is offered completely in person over two weekends – all modules are held at a facility with the group of coaches attending. However, once a coach has begun their Comp Intro training in either the Hybrid Pathway or the In Person Pathway, they must continue in that same one for the duration of their Comp Intro training.
**Please note that you must be at Trained status to move on to the evaluation process of your certification.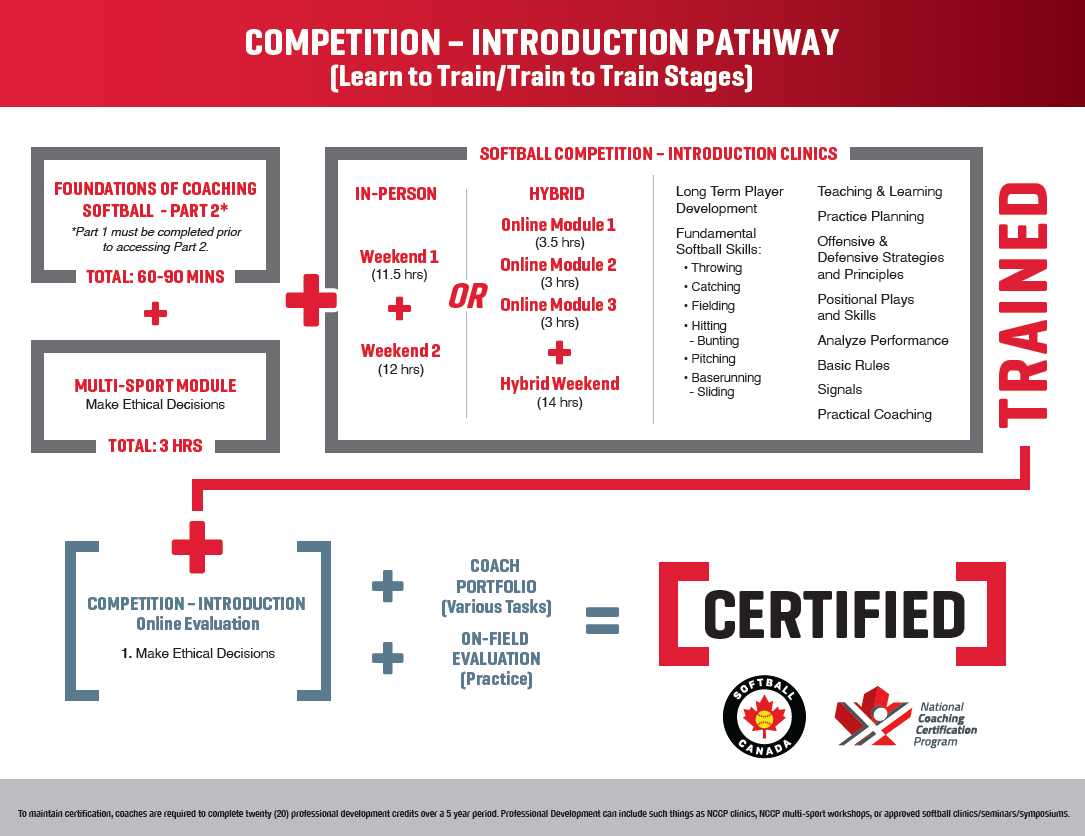 SCHEDULED CLINICS
If the clinic or module you are interested in registering for is full, please email kim@softballalberta.ca to be put on a waitlist.
Comp Intro Hybrid Weekend
Hosted by: Kaizen Softball
Date: January 14-15, 2023
Location: Calgary
Comp Intro Hybrid Weekend
Hosted by: Nose Creek Softball
Date: November 19-20
Location: Calgary
Comp Intro IN PERSON
Hosted by: Calgary Adrenaline
Date: January 28-29 & February 4-5
Location: Calgary
If you are planning on completing an evaluation, click here for the process. Please note, athletes in the evaluation must be in a U15 category and above.
Would you like to host a Competition – Introduction Coaching Clinic? Read through these requirements and contact Kim to find out how!
*Please note: There will be no Comp Intro Clinics approved to be hosted during May-August.*