COMMUNITY SOFTBALL
The Community Softball context is typically for either youth participating in a recreational environment, or masters participants participating for recreation, fitness, and socialization reasons. The participants are in the Active for Life stage of long-term athlete development. The role of the coach is to encourage participants to continue their involvement in the sport.
For Softball Alberta Provincial Championships in categories that do not lead to a Western or Canadian Championship, at least one coach must be Community Softball Trained. Trained status is granted once a coach has completed the Foundations of Coaching Softball pre-requisite,  attended all portions of the Community Softball clinic and completed their Make Ethical Decisions Online Evaluation.
There are now two clinic formats offered. A Hybrid clinic pathway involves 1 online module (scheduled over Zoom) and 1 hybrid day held in person for the remaining modules. The online module can be completed before or after attending the hybrid day. The other format is offered completely in person over 1 or 1.5 days – all modules are held at a facility with the group of coaches attending. However, once a coach has begun their Community Softball training in either the Hybrid Pathway or the In Person Pathway, they must continue in that same one for the duration of their Community Softball training.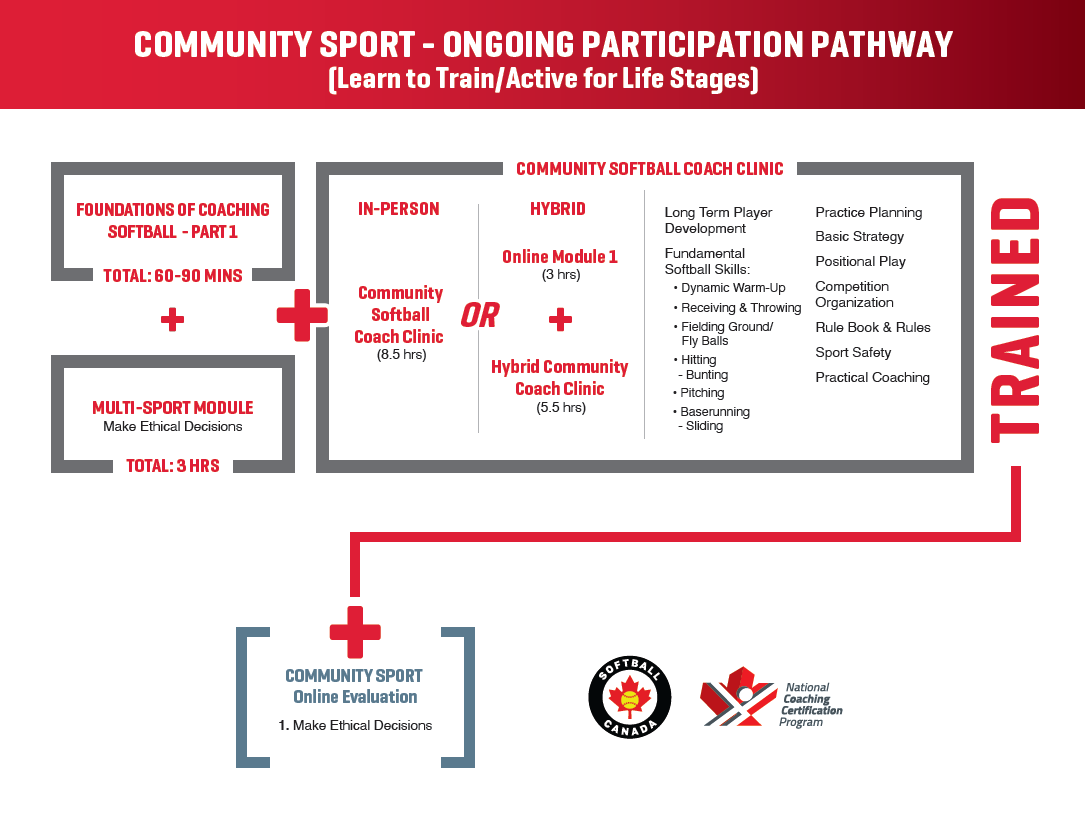 SCHEDULED CLINICS
In Person Community Softball
Hosted by: West Valley Softball
Date: January 14-15, 2023
Location: Calgary
In Person Community Softball
Hosted by: Leduc Minor Softball
Date: February 18-19, 2023
Location: Nisku
In Person Community Softball
Hosted by: Bonnyville Minor Ball
Date: March 18, 2023
Location: Bonnyville
In Person Community Softball
Hosted by: Beaumont Blitz Fastball
Date: April 1-2, 2023
Location: Beaumont
If you don't see a clinic near you, are you interested in hosting a Community Softball Clinic? Read through these requirements and contact our Program Coordinator Kim Abma.