TIMAC TIRE TEAM (1969-1971) – INDUCTED 2005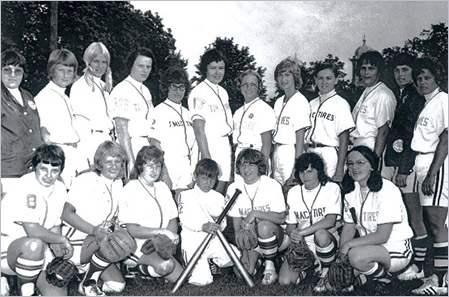 Sharin Adams
Phyllis Allen
Helen Blackburn
Wendy Carson
Sandy Clark
Val Crawford
Joan French
Audrey Gathercole
Corine Hagley
Arlene Hautzinger
Kay Hyde
Val Jensen
Corie Johnson
Pam Joslin
Irene Karia
Ruth Kufeldt
Jan Leinweber
Brenda MacNeill
Myrna McKay
Sharon Miller
Mint Molenaar
Linda Parkes
Joanne Pittman
Doreen Wazynick
Ria Whitehead
Carol Wiebe
Trudy Youngberg
Carol Donovan
Bonnie Cumiford
Terry Diemert
Gwen Holmes
BJ Turner
The Calgary Timac Tires Senior 'A' Women's Fast-Pitch team was one of Alberta's premier women's teams in the 1970's. At the time, there were only two Canadian Senior Championships: the Senior 'A' Men's Division and the Senior 'A' Women's Division.
In their short five year history, Timac Tire were Provincial Champions four times. They were the first team to represent Alberta at the Canada Summer Games in 1969; they team brought home a silver medal, losing to Ontario in the finals.
They would go on to win Silver at the Canadian Championships in 1970 and again in 1971.