LLOYDMINSTER LINERS (1990-1993) – INDUCTED 2004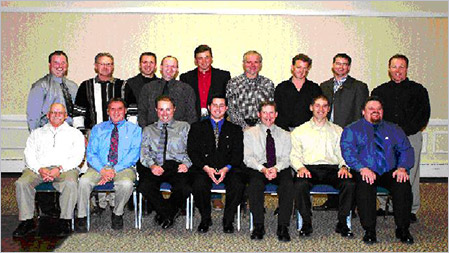 | | |
| --- | --- |
| Colin Abbott | Andy Jackson |
| Michael Bischof | Jason Johnston |
| Chuck Blackburn | Justin Johnston |
| Brad Blackburn | Dean Laschowski |
| Andre Costigen | Tim Macumber |
| Craig Crawford | Darryl Melnyk |
| Scott Culham | Keith Nachtegaele |
| Terry Dekker | Wayne Neilson |
| Barry Ellerback | Dave Norris |
| Robert Ellis | Todd Peters |
| Scott Evans | Todd Phipps |
| Brad Feschuk | Ryan Phipps |
| Paul Fischer | David Quinn |
| Ryan Gabrielson | Russ Rogers |
| Sheldon Gardiner | Darren Rosenberger |
| Garth Gazdewich | Curtis Rouse |
| Lorne Graham | Ken Schula |
| Dustin Grams | Kelly Thiessen |
| Wade Gushnowski | Ian Belyea – Coach |
| Mark Hanson | Jim Harvie – Coach |
| Chad Hanson | Gary Thiessen – Coach |
| Chad Hartnell | Mike Lamb – Manager |
| Danny Haygarth | Corina Yakubowski – Athletic Therapist |
The Lloydminster Liners Jr. Men's Softball organization was not something that evolved over night. Mike Lamb put the whole organization into place in the late 1980's using jobs at the ball park as a perk to play ball in Lloydminster. He combined this with the lure of being coached by young and upcoming coaches like Ian Belyea, Jim Harvie and Gary Thiessen.
Mike had a template for success which was to work hard, build team camaraderie and get the boys to buy into coaching philosophies that were quite simply, ahead of their time.
To put into perspective the four consecutive Junior 'A' championships one only has to look at a team that was and is regarded as one of the best Men's Fastball Teams in the world – Calgary Brake and Clutch Sr. 'A' Men's team, and they only won two championships in a row.
To win four championships in a row when teams are gunning for you is quite simply phenomenal. Lloydminster never saw anyone's third pitcher, nor did they ever see anyone's weak lineup. They rubbed shoulders with the best that Canada had to offer and won four consecutive times.
The coaching staff gave some of the boys the leg up to go on and not only play for the Canadian National team, but star for it. Colin Abbott, Craig Crawford and Dave Norris would go on to play for the national team and promote the Lloydminster program all across Canada, and abroad. Kelly Thiessen, a local boy, would play on all four championship teams which in itself is quite an accomplishment considering that there are age restrictions for junior aged players.
The community embraced these boys and the Lloydminster National Hosting committee, another brain child of Mike Lamb. Mike Lamb fast tracked the development process by increasing the competitive level of the boys involved.
The word "dynasty" is uttered under some people's breath when a team is able to do it twice. The Lloydminster Liners and the boys that participated on this team over a four year period deserve and have achieved this lofty status. This team and program can truly be called a dynasty.
Winning four consecutive Canadian Junior 'A' Championships in a row is an incredible feat that may never be achieved again.