LETHBRIDGE NORTH STARS (1963-1965) – INDUCTED 2003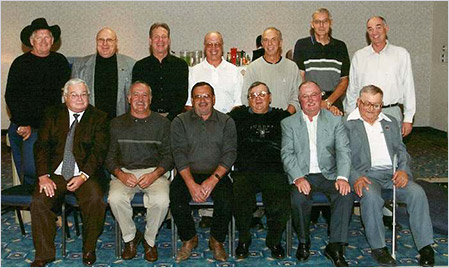 Dennis Allen
Alan Barva
Dennis Bogusky
Rock Bruneau
Rich Chollack
Jim Dundass
Myron Ell
Jack Fleming
Harold Hegland
Butch Lee
Ken Matisz
Jim McCormack
Rick Petrie
Danny Santoni
George Santoni
Gary Simmons
Pat Stenbeck
Larry Tratch
Ron Tratch
Don Vosburgh
Merlin Wyllie
Glenn Wyrostok
Tom Mclean
Chester Gal
Mike Wyrostok
Jake Milford
The Lethbridge North Stars won three consecutive Junior 'A' Men's Provincial Championships in 1963, 1964 and 1965. They were comprised totally of "home grown" talent.
In the three years that this team would attend Provincial Championships, they would compile a record of 11 wins and 2 losses. In 1964, they went undefeated at the Provincial level outscoring the opposition 42 – 8. Unfortunately, the North Stars were not able to advance past the Provincial Champions as there were no Canadian or Western Junior 'A' Men's Championships at the time.
The North Stars were a team of players that were quite simply ahead of their time. Had they developed as a team a little later in life, they could have represented Lethbridge and Alberta at numerous Western Canadian Championships.