EDMONTON STAHELI CONSTRUCTION SPARTANS (1963 – 1970) – Inducted 1994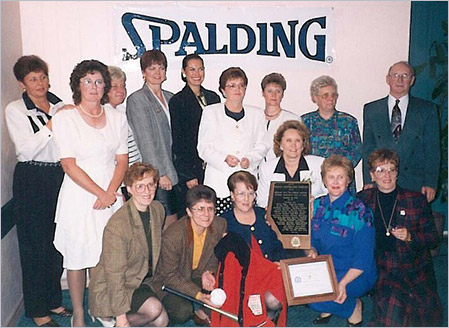 | | |
| --- | --- |
| Joan Wild | Lydia Corbett |
| Rolande Tetreault | Evelyn Cunningham |
| Roberta Harrison | Leona Draper |
| Wanda Crew | Gail Draper |
| Dianne Crew | Gay Edmonds |
| Joyce Wild | Gail Gorda |
| Sandra Jerke | Sharon Hannem |
| Sharon Worden | Janet Hannem |
| Linda Threadgold | Judith Harold |
| Maurie Smith | Marge Hawkey |
| Gaylene Fenske | Sharon Heiberg |
| Mavis Rogers | Judy Klimeck |
| Nora Crew | Beverly Koehli |
| Georgina Crew | Claudette Majeau |
| Bill Crew | Kerry McDonald |
| Bruce Draper | Averil Orbell |
| Bruce Baker | Cecile Paul |
| Debra Draper | Sandra Pederson |
| Jerry Anderson | Pat Popodnytaz |
| Gloria Bannister | Charmaine Roumbough |
| Betty Batting | Marilyn Tanton |
| Linda Becker | Laverne Walper |
| June Brown | Vickie Whitehead |
| Mavis Collins | Gloria Yanke |
To describe the Staheli Construction Spartans as a powerhouse in women's fast pitch may be an understatement. This team from Edmonton compiled a long list of Championships over eight years.
From 1963-1970, they consecutively won the Edmonton Championships in Midgets (1963 and 1964), Juveniles (1965), Intermediates (1966, 1967 and 1968) and Junior Women's (1969 and 1970). They were Northern Alberta Provincial Champions in 1963, 1964 and 1965 and the Northern Albertan Junior Women's Provincial Champions straight from 1966 to 1969. As for Provincial Championships, the Spartans won Midgets in 1963 and 1964, Juveniles in 1965 and Juniors in 1966, 1967 and 1968. The Spartans won the Western Canadian Junior Women's Championships in 1967 and 1968.
They were very successful due to their superior fundamental skills, close team unity and competitive spirit. The Spartans were always willing to withstand a challenge and possessed strong sportsmanship skills. They were highly respected for their abilities but also for their ability to handle all affairs with dignity and class.