EDMONTON MORTONS (1945-1952) – INDUCTED 1988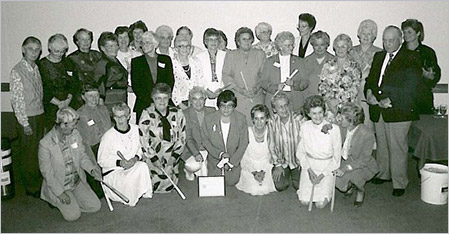 | | |
| --- | --- |
| Marge Amdam | Vivan Kortgaard |
| Betty (Arnold) Anderson | Joan Levin |
| Lucille Beingessner | Carmen (Lenaour) Mack |
| Connie (Strachan) Broadbent | Kay & Ross MacBeth |
| Joan (Cragg) Coulson | Iris MacNevin |
| Nancy (Mercer) Coxford | Mille & Ken McAuley |
| Joyce (Comrie) Dawson | Mildred (Ahlstrom) McGuire |
| Mary Gamble | Dorothy (McLean) McIvor |
| Polly (Spotowski) Goretzki | Lorill (Gerbrandt) McRiane |
| Helen (Nash) Gosnell | Maureen O'Connor |
| Alberta (Johnson) Gresl | Grace (Nicol) Phillips |
| Bonnie (Wright) Hansch | Jacqueline (Ferrier) Pugh |
| Lillian (Brown) Harvey | Gladys Rapp |
| Kelly (MacDonald) Hofmann | Doreen Ryan |
| Agnes (Zurowski) Holmes | Edna (Harrison) Squire |
| Barb (Arnold) Anderson | Vicky (Chimko) Stelter |
| Theresa (Lafleur) Jackowich | Hazel (Smith) Stevenson |
| Ken Johannson | Netta (Tough) Taves |
| Hazel Johnston | Marge (Royce) Van Deelen |
| Pat (Randall) Knoll | Ian (Ward) Wallace |
| Bob Knowles | Terry (Pomerleau) Webb |
| Ken Knowles | Tillie (De Rappard) Williams |
The Edmonton Mortons were organized in 1945. Though they were only in existence for eight years, they won 5 Provincial Championships, 2 Western Canadian Championships and 1 Canadian Championship.
In 1951, the Mortons compiled a record of 34 wins and only 1 loss. They won the B.C.-Alberta Inter-Provincial Championship, the Western Canadian Championship and the Canadian Championship.
The Edmonton Mortons have the distinction of being the first ever official Canadian Senior Women's Softball Champions in 1951. The 1951 series was conducted under Eastern Canadian Rules: five feet shorter base paths and increased pitching distance. Unfortunately, the Mortons were unable to defend their title because there was no Canadian Championship in 1952 due to a lack of finances and a decision of the Canadian National Exhibition to pass up sponsorship.