CALGARY KAIZEN (2007) – INDUCTED 2014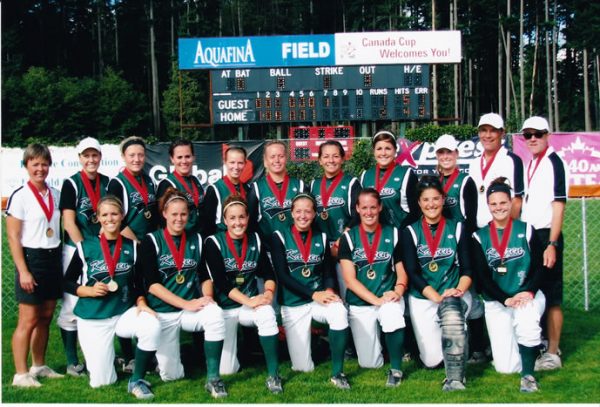 | | |
| --- | --- |
| Shawn Denstedt – Coach | Steve Bermingham- Coach |
| Judy Wiltse – Coach | Judy Denstedt – Manager |
| | |
| Danielle Abrahamson | Jillian Lafrance |
| Lindsay Anderson | Jody Lantz |
| Samantha Buchanan | Jamie McIntyre |
| Julie Carroll | Alana Purvis |
| Emily Denstedt | Jessica Ruzicki |
| Rachelle Eloschuk | Kaleigh Will |
| Amanda Howard | Danielle Eloschuk |
| Jaclyn Kinley | Samantha Lewis-Boomer |
Calgary Kaizen 2007 was a special team made up of a group of women dedicated to the game and to each other. In 2007, they had the summer of their lives. The idea was a simple one: to hand pick a team of players that would compete for the Junior National Championship.
To run a few numbers by shows the kind of season Kaizen had: 38 wins, 3 losses, 308 runs for and only 44 against. The number of tournaments they played was 4, in which they won all of them with a 20-1 win loss record. The Kaizen pitching held the opposition scoreless in 18 of their 38 wins. Fifteen times the Kaizen scored more than 10 runs against their opposition. The team's three pitchers, Jillian, Emily and Alana all had earned run averages less than 1.20. Four players, Amanda, Jillian, Danielle and Rachelle all had batting averages in excess of .500.
With just two losses during the course of the season Kaizen prepared for Junior Nationals in Surrey, BC. The first game was not easy. Battling Saskatchewan, Kaizen finally scored 2 runs in the fifth inning to break the ice, only to have Saskatchewan answer back with 2 runs of their own. Then in the sixth, Kaizen scored 2 more runs to earn their first win of the tournament.
The team continued their success throughout the tournament tacking more wins onto their record. They beat Pickering Heat 6-0, White Rock 7-0, Manitoba 4-0 and Delta BC 5-1. With only one loss under their belts for the round robin, they headed into their first playoff game to face Calgary Ice. With an exciting double play to take the momentum out of Ice, Kaizen prevailed with a 2-0 win. This meant a rematch with Brampton, the only team in the tournament to hand Kaizen a loss.
Kaizen came out fired up and never quit to make sure they didn't give Brampton a win again. Their efforts paid off and Kaizen was able to add another win onto their record to bring them to the final the next day. Pickering battled out their competition in the remainder of the playoff round to face Kaizen in the final.
Kaizen battled with Pickering right down to the last inning. With Pickering's tying and go ahead runs on base, the team stayed focused and calm to get the last important out that gave them their 2007 Junior National Canadian Championship.
Calgary Kaizen 2007 had a tremendous year of intense competition and hard fought battles. They showed the passion and focus that a team needs to accomplish their goals. Their goal was simple from day one and they counted on each other to make it happen.