CALGARY COMETS (1960-1967) – INDUCTED 1997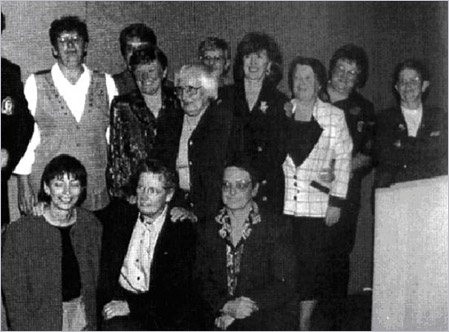 | | |
| --- | --- |
| George Alexander | Jan Leinweber |
| Rita Allison | Edie Leopold |
| Marg Anderson | Myrna McKay |
| Lil Andrews | Brenda McNeill |
| Bev Bandura | Heather McPherson |
| Linda Bouchard | Lois Milligan |
| Wendy Carson | Bernie Nicholson |
| Donna Clark | Lynn Ornburn |
| Sandra Clark | Marg Pickard |
| Ruth Constable | Joanne Pittman |
| Sandy Cory | Ella Rees |
| Elva Criss | Betty Ann Sadler |
| Darlene Currie | Marlene Saunders |
| Terry Diemert | Cordella Schwengler |
| Marg Ewanyshyn | Diane Semchuk |
| Bob Fisk | Darlene Tucker |
| Joan French | Joyce Turk |
| Trudy Hanson | Lois Turk |
| Bonnie Hayward | Betty Jean Turner |
| Gwen Holmes | Bobbie Wallace |
| Bernice Lechner | Doreen Wazynick |
At a time when competition was limited and Women's Senior 'A' players were few and far between, the Calgary Comets were created. The first few years were building ones, but in 1963, all that hard work paid off. The Comets' rivals, the Edmonton Army & Navy Pats finally found a formidable foe.
In 1963, the Comets were the Provincial Champions and Western Canadian Semi-Finalists. The following year, the Comets had won the Provincial Championships again. This time, they became the Canadian Senior 'A' Women's Champions. Four team members were named to the National Team as well. Then again, in 1965 and 1967, the Comets were Provincial and Canadian Champions.
The Calgary Comets were successful due to many reasons; team spirit had a great deal to do with it, along with tremendous enthusiasm and ambition. They played the game brilliantly; some would even use the word clever. This was a team that was highly respected for their talent, strong sportsmanship skills and above all, their competitive spirit.