1997 VECTOR OIL TOOL TEAM – INDUCTED 2019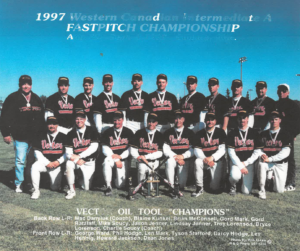 Mac Danyluk – Coach and Manager
Charles Soucy – Assistant Coach
Phil Hodge
Darcy Hodge
Dean Jones
Jason Jenner
George Ward
Lindsay Jenner
Blaine Kunkel
Gordon Mark
Leonard Mark
Tyson Stafford
Troy Lorenson
Bryce Lorenson
Mike Soucy
Les Hennig
Howard Jackson
Gordon Ratzlaff
Brian McConnell
The Vector Oil Tool Mens' Fastball Club was organized in 1996 under coach and manager Mac Danyluk, with sponsorship from Ken Wenzel of Vector Oil Tool. Players in the lineup were recruited from the Andrew, Heinsburg, Irma and Sherwood Park areas.
The inaugural year, 1996, proved to be a very successful season, with the team participating in many local tournaments such as Mundare, Andrew, Irma, Atton's Lake, and the $5000.00 Pow Wow Tournament at Goodfish Lake. The strong pitching of Troy Lorenson and Jason Jenner led Vector to victory at the majority of these events.
The 1996 Intermediate 'A' Men's Provincials were played in Calgary where the Vector team defeated the Bonnyville Silverline team to advance to the Western Canadian Championships which were held in Whitehorse, Yukon. To add pitching strength to the lineup, Gord Ratzlaff from Silverline was added to the roster. A 7-1 record in the round robin of the tournament clinched first place for Vector, but a 1-0 loss to British Columbia, and a 4-3 loss to Saskatchewan dropped Vector to a bronze medal standing. Mike Soucy was awarded the Top Batter for the tournament.
The 1997 season brought Gord Ratzlaff to the pitching lineup fulltime, and the threesome of Ratzlaff, Jenner, and Lorenson proved to be one of the best pitching rotations in Western Canada. Vector competed in many of the local tournaments once again and with the strong pitching and a consistent hitting line-up, was very successful in their bid to win almost all of them.
The 1997 Intermediate 'A' Men's provincials were held in Irma that summer. Vector defeated the Calgary All New Construction team in the final to advance to the Western Canadian Championships played in Calgary. Vector went undefeated in the tournament, and beat the host, Calgary Thunder, in the final game to win the gold medal.
The 1999 season brought some lineup changes as players were added fulltime. With these additions, and the return of a healthy pitching staff, the team rose to the top of the Senior 'B' Men's circuit. Calgary played host to the Senior 'B' Men's Provincials, and in an extremely exciting 10- inning final, Vector defeated the Calgary Rangers to earn a berth to the Western Finals in Saskatoon. In the final game, Vector was defeated by Delisle, and settled for a silver medal.
The 2000 season brought several roster changes, but the club maintained their winning record at most of the local tournaments. Winning the Senior Men's Open Provincials that summer, the team finished 5th at the Westerns in Victoria.
After these very successful seasons which included the Vector team winning 5 Provincial Gold medals, 1 WCSA Gold Medal, 1 WCSA Silver Medal and 1 WCSA Bronze Medal, and also winning the majority of the tournaments that the team participated in, the Vector Oil Tool team ceased operations at the end of the 2001 season.