1984 CAMROSE MERCHANTS FASTBALL TEAM – INDUCTED 2007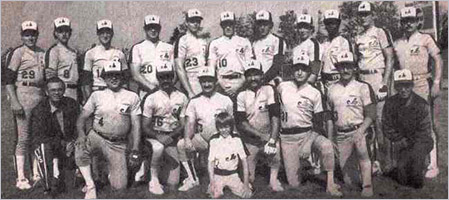 Shawn Bailer
Jeff Boyce
Robbie Boyd
Len Chanasyk
Glen Jevne
Marty Kernaghan
Ray McMillan
Tom O'Toole
Donnie Pruss
Dave Recknagle
Dale Taylor
Jeff Timlin
Ernie Uniat
Tom White
Bill Yaremchuk
Art Owen
Jim Reed – Head Coach
Rick Gross – Assistant Coach
Head coach Jim Reed brought the Merchants to Camrose in 1976, which set in motion a winning tradition of men's softball in that city.
In their inaugural season as a member of the Western Major Fastball League, the Merchants finished the regular season seeded in third place going into playoffs, where they would eventually win the pennant with an 11-4 record.
They continued this winning streak for the next three years, earning back-to-back-to-back league titles as well as the first ever World Series of Fastball title in 1979. In 1980, they pursued further fastball success by winning a provincial title, and participating in their first Canadian Championship, finishing the tournament with a 3-3 record. They went on to earn the silver at Senior Canadians in 1982 and the bronze in 1983, all the while achieving more accomplishments in both the Alberta Major Fastball League and the Midwest Fastball League.
The culmination of the club's illustrious career was in 1984, when the Merchants won their first Canadian Championship, going a spotless 7-0 throughout the tournament. With the talents of such Hall of Fame athletes as Glen Jevne, Ray MacMillan, Jeff Boyce, and Marty Kernaghan, as well as Hall of Fame coach Jim Reed, the success of the Camrose Merchants ignited a passion for softball in the community which continues to burn today.