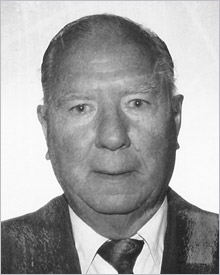 Tom Moore of Calgary moved from Ireland and became involved as a Sports Writer. At the first Annual General Meeting of the Association in 1931, he was appointed to the rules committee.
Tom wrote the rules, amended the rules, and helped compile the official handbook for Softball Alberta for over 23 years.
He received the Bell Memorial Award in 1986 from the Alberta Sports Hall of Fame which is dedicated to Sports Writers and Sportscasters who have made a difference to sport over the years.
Inducted as a Sport Builder in 1986.