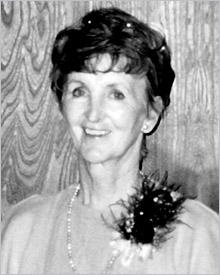 Norma Cleland's ball pursuit began in the early 1940's in Bow Island, where she was the eldest daughter in a farming family who all played ball in the country school yard.
In 1968, she embarked on what may now be referred to as coaching legacy. She committed herself to the growth and development of junior aged girls in slo-pitch. For seventeen years, Norma coached girls in the Bow Island area stressing the fundamentals and sportsmanship.
The Double B's would become known as Norma Cleland's team and competed in the Senior 'A' Softball Canada Canadian Championships in 1986 and 1987 and brought home a silver medal from both. In 1988, after winning the provincial gold medal, the team would travel to Quebec and bring home a bronze medal.
Norma retired from coaching in 1989 but did come back to coach the Bow Island Buds in 1991 to the first ever senior 'Co-Ed' Canadian Slo-Pitch Championships.
Norma Cleland devoted a lifetime to the development and promotion of softball in Alberta.
Inducted as a Sport Builder in 1996.