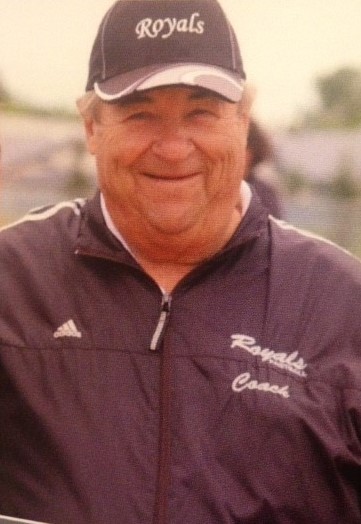 If you've been around a ball field in Alberta over the past 50 years, then you probably know who Buzz is. If you got the chance to meet him, you know how much he loved the game of softball, and more importantly, you know how much time he devoted to helping grow the sport.
There have been many great coaches over the years, and great individuals in the softball community that stand out above the others, and Buzz is definitely in that category. Buzz was a player, a coach, a manager, a volunteer, a mentor, and most off all, a beloved husband, father, grandfather, uncle, and friend to so many. He was a man that would go out of his way to help others. A man that would put everyone else before himself. A man that gave countless hours to the game of softball, to his community, and to all the players that ever played for him. And he loved every minute of it!
Buzz's playing days started in hard ball when he lived in his home town of Myrnam, AB. Once Buzz moved to Edmonton in the early 60's, he was asked to play on a local softball team. He went out expecting it to be easy with the underhand pitching, and the big ball…. but his view on the game changed quite quickly after he went 0-3 hitting in his first game. From that point forward, he was consumed with the game of softball. He went on to play for many years and finished his playing days in Division 1 at the old Clarke Stadium in Edmonton. Buzz was renowned for his defensive abilities on the hot corner, his offensive talents that had him on numerous all-star teams, including those who played against the legendary King and His Court, featuring Eddie Feigner, and for his ability to get under the skin of the opposing team's fans. Not many people would know that part, but Buzz's sisters can tell you many stories.
As great as he was in his playing days, Buzz will always be remembered more for the 31 years that he spent coaching minor ball. In 1981, Buzz's daughter Shannon was playing for their local team in Wellington Community. A neighbor from a few doors down was coaching the team, but after one particular loss, he quit, and dropped the equipment bags off on Buzz's front doorstep. From that point forward, coaching and managing softball teams became a summer ritual and a passion like no other for him. Buzz started out coaching Bantam girls, and then moved on to coach them at the Midget level as well, where he led them team to a City and Provincial Championship just a few years later.
It was after this championship that Buzz moved on to coach his son Jeff, who was around the age of 8. Over the next 16 years, Buzz coached Jeff, along with the same core group of players. A group that he would be proud to see are still best friends to this day. They played out of Wellington Community for 6 seasons, then Montrose Community for 2, and then represented the city as the Edmonton Royals for 8 years. Through their years together, they were able to amass countless NW Zone Championships, 4 City Championships, 3 Provincial Titles, 6 trips to the Western Canadian Championships, which included one championship win and 1 second place finish. Also, a bronze medal at the 1993 Alberta Summer Games. On top of this, you can add in many tournament wins, league titles, and numerous trips across the province and western Canada.
The one season that will always stand out while coaching the boys, was 1999. That year, Buzz took his Edmonton Royals to Provincials; where they would win gold with a 3 game sweep of Calgary. That team, which only had 10 players, went on to the first ever Junior B Men's Western Canadian Championships, which were held in Unity, SK. The team had an up and down season to that point, but over the 4-day tournament, they put together a run that would be hard to match by anyone. After winning game one, the team lost a close one in game two. But from that moment on, the team was unstoppable. They rattled of six consecutive wins, including back to back wins over Southey, SK. to take home the gold. This was the ultimate win for Buzz that culminated so many years of hard work.
To top that season off, Buzz was awarded the 1999 "Coach of The Year" by Softball Alberta. This was an accomplishment that meant so much to him; especially seeing that it was voted on by his peers. That award was hung on the wall in the family living room, and never moved. And any time someone asked about it, or mentioned it, you would see Buzz start to smile, and you could see how much pride he took in that honor.
As the boys moved on to careers, marriage and kids, Buzz went back and started all over again. At this point, his granddaughters had started playing softball. So, he took the reins again and began coaching/managing their teams. Over the next 12 years, Buzz helped lead these teams to 4 more city titles and 4 provincial titles.
As great as the Western Canadian title was in 1999, it didn't compare to the joy that he got from watching his beloved granddaughters. Any time he got to watch them play or got to sit down and talk about ball with them, he'd be smiling from ear to ear. Win or lose, they always made him proud.
Aside from coaching his own teams, Buzz was asked to help out with many other teams' at all different levels, especially when Provincials rolled around. He had the coaching levels required to take a team to Provincials, so when needed, he would step in for other coaches that didn't have the required coaching level. That was Buzz, always looking to help out where he could. And he was always happy to do so. He loved the game and everything that it brought with it.
Buzz was also heavily involved with the community. He was on the Board of Directors for Wellington for over 30 years, 20 of which he was Vice-President. He served as the Softball, Hockey, and Sports Director, and held numerous other positions within the community. If there was a community event being held, Buzz would be at the front of the pack, taking charge and making sure that everything ran smoothly. If you needed to know how much alcohol to purchase for a wedding, a variety Show, or pretty much any event, he could tell you down to the ounce. If you needed to know how much food to order, again he was the man to ask. If you needed someone to work a bingo, he would be there, no questions asked.
Buzz was also part of the North West Zone and the Edmonton Youth Softball Association. He was the Commissioner for the NWZ from 1996, right up until his passing. He was also the Commissioner for the EYSA from 2003, again up until his passing. Buzz also made a huge contribution to the EYSA Rules Handbook.
As well, Buzz sat on the board for the Capital City Men's Fastball League for over 15 years.
Even when he finally retired from coaching at the age of 73, he still continued to go out to the ball field. He would watch games, give advice to the coaches and players and he'd still yell at the umpires. He may have been off the field, but he was always going to be involved in the game in one way or another.
Last summer, was the first time in over 50 years that Buzz was unable to get out to a ball field. He was struggling with lung disease and he was either stuck in the hospital or at home. But that didn't stop him from talking about ball. Whether he was visiting with family or friends, he would always take great joy in sharing ball stories. Buzz and his son Jeff would talk about ball for hours as well. This was something that would lift Buzz's spirits when he was nearing the end of his battle. The stories never got boring to him; no matter how many times they were brought up again and again.
In his last hours, Buzz took turns telling stories with his family. Again, the talk turned to ball. He reminisced about how much he enjoyed watching the kids play over the years and taking all the trips to play in tournaments, provincials and Western Canadian Championships. He reveled in the fact that he got to coach and watch his son, daughters, and granddaughters play for so many years. And more than anything that he got to spend all that time, side by side with his wife of 39 plus years, Judy. She never missed a game or a trip.
Softball wasn't just a summer sport or a hobby to Buzz. Softball was a way of life. It was a religion. The game meant so much to him, and to his entire family.
He didn't see himself as being a great coach or being someone that volunteered more than others. He was humble. He was just doing what came natural to him, as he loved to take care of others before himself. He never saw it as going out of his way. He just did it because he loved it.
Inducted as a Sport Builder in 2017.