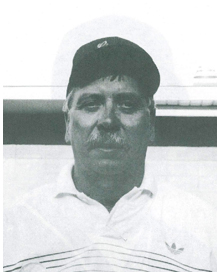 Mike Lamb's interest in softball started at the age of 15 while in high school. A nearby men's softball team was short of players for a tournament and asked him to play for them. They won the tournament and his erformance must have been good enough because he became a regular member of that team. He continued to play softball for ten years at the senior men's level.
Mike's love of the game led him to coaching and in 1978 his team won the Alberta Intermediate 'A' Women's Softball Championship.
In 1979, Mike was elected President of the Lloydminster Softball Association. He amalgamated the men's league (6 teams) with the women's league (6 teams). As President, through his effort and along with a good executive, he was able to increase the league to 40 teams by 1982.
As President he not only built the large league but also improved the facility (Legion Park) in Lloydminster by increasing the number of diamonds from two to six. Under Mike's leadership, they installed two sets of lights (lighted diamonds), fenced six diamonds, shaled all six diamonds, irrigated three diamonds, built a concession and washroom with running water, installed two score boards and built a large storage shed. 90% of the Lloydminster Softball Association's funds used to make all of this happen came from money raised through bingos and hosting major ball tournaments.
During the rebuilding of the Lloydminster Softball Association, Mike also started an association called the National Hosting Committee. This committee was created to assist in hosting minor provincial championships and National events. They hosted the 1982 Junior Women's FP Canadian Championship and won a silver medal. Mike was President of the National Hosting Committee and manager of the junior team.
The National Hosting Committee also hosted the 1986 Midget Girls FP Canadian Championship (Gold medalist) and the 1988 Junior Men's FP Canadian Championship (Silver medalist) with Mike as the manager.
With Mike at the helm as manager, the Junior Men's FP Liners won 4 Gold medals, 1 Silver medal and 1 Bronze medal at the Canadian Championship.
Mike and his committee hosted numerous provincial championships, between 1980-1998, in categories from minor to senior. Lloydminster Softball and the National Hosting Committee worked very well together over the years to enhance softball in Lloydminster and area for all ages.
Over the years under Mike's presidency, they built a great facility at Legion Park, hosted three Canadian Championships, the 1989 Intermediate 'A' Western Canadian Championship and the 1998 Pee Wee Western Canadian Championship. They also put on clinics every spring and during the summer which helped to enhance the game at all levels.
Mike retired in 1998 after 19 years as President of the League. His efforts and contributions to the game were rewarded in knowing that hundreds of players had the opportunity to play the game, not only with great interest but in a great facility.
From 1990-1992, Mike had assembled a very strong core of local softball talent from players in and around the Lloydminster area. Mike filled in the roster with very strong players from across Canada. Mike's model for success had a lot to do with the community expectations for all his players. Mike ran numerous softball clinics, in-school softball programs and other skill development activities where he utilized the Liner players and coaches. Minor softball teams welcomed the Liners players that would show up at their practice as guest coaches – another endeavor that Mike had orchestrated to help grow the game locally.
Through these activities, softball in Lloydminster and area grew, and there was a lot of excitement at the games and tournaments at the Legion Ball Diamonds. The annual Lloydminster Tournament of Champions, another event where Mike gave a lot of time and effort, was a tournament that grew to be very prominent during Mike's time as President of Lloydminster Softball.
Mike never took any credit – he hated the lime-light. Often they would praise other people for the first-class organization, but those who knew softball in Lloydminster, and the Liners organization, knew that Mike Lamb was the backbone for all the success of the Liners, and the growth and development of softball in the Lloydminster area.
The one thing that people take away from this successful era of softball and their association with Mike Lamb, is the concept of giving back. Mike never used this 'verbiage', but through his model of success, he made it an absolute expectation that everyone involved in the success of the team(s) gave something back to the softball community. It was an absolute given, that you made every effort to give something back to the sport and to the community.
A celebration was held by the City of Lloydminster at Legion Ball Park on June 5, 2012 when the main diamond was renamed, Mike Lamb Field. Having a ball park named after you is the ultimate honour in our sport.
Mike Lamb's legacy in softball will be forever remembered in Lloydminster, Alberta. His time, efforts and contributions should be forever remembered with induction into the Softball Alberta Hall of Fame.
Inducted as a Sport Builder in 2013.