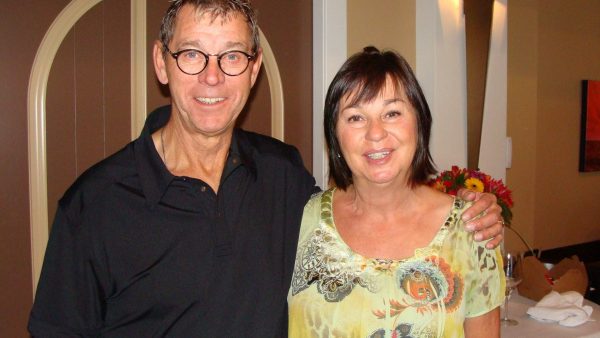 Lyle did not actually grow up playing softball, he played baseball instead. He just didn't think he would be interested in softball. However, one day Lyle received a call from his brother Carl who said they were shorthanded for a double-header softball game that evening. Lyle played the double header and from that point on felt softball was something he was interested in. As the season progressed he felt the game was very competitive and stayed with it. After 15 or so years of playing at a fairly high caliber he truly fell in love with the game of fast pitch softball.
One evening Lyle and Sheila were attending a community function when Lyle mentioned that he would be interested in coaching boys fast pitch softball but would like to play until he was 40 years old. One week later Lyle received a call from a lady at Calgary Minor Softball who said she had heard that he would be interested in coaching boys in fast pitch softball. She said she could use some help so Lyle went to the next indoor practice in a warehouse. There she was, in high heels and a dress. Balls were flying in all directions. Lyle saw it necessary to put some order into these practices. By early spring he decided to commit to coaching a group of 16-17 year old boys.
With no specific league in Calgary for this age group Lyle approached the league that he played in and agreed to put these boys in the lower men's division. He needed an assistant so who did he go to but his wife Sheila. She agreed and they became a husband and wife coaching staff. This coaching gig began in 1984.
The community gave them a ball diamond on which to practice and provided the team with uniforms. Sheila organized a parents meeting and they named the team the 'Rangers'. The team lost their first 10 games but won the next game. Although the team was not successful on the diamond it was rewarding to hear the boys say that it would be different next year.
During that first year, Sheila and Lyle received numerous compliments from all of Lyle's former teammates as well as the league. This was something fast pitch softball needed to keep the game alive and to advance these players to the next level. Lyle began taking coaching clinics through the NCCP and ultimately attained Level 3 Certification. During the next few years Lyle became involved with the Double Diamond fast pitch softball program for male and female elite players.
In 1986 Sheila and Lyle were married at Renfrew Park (now Ed Corbett Field). Lyle and Sheila relocated to Lethbridge where they got involved by starting a midget boys program. Gaining support of the senior players in the league, the boys held their own. The team moved up to the Junior level, while playing in the senior men's league, as well as participating in tournaments and provincial championships.
While in Lethbridge, Lyle was involved in starting the Can-Am Men's Fast Pitch League which included Lethbridge, Medicine Hat, Swift Current, Havre, Montana and Great Falls, Montana. Unfortunately, with no sponsors, the league ceased to operate after three years.
Here are some more of the Rosenau's contributions to softball:
1989 – Lyle was selected as assistant coach for Team Alberta for the Canada Summer Games in Saskatoon.
1992 – Sheila and Lyle purchased a used school bus and the 'Rangers' bus was on the road. The bus became the pride of the Rangers players as it travelled to many tournaments over the years.
1993 – Lyle was selected head coach for Team Alberta for the Canada Summer Games in Kamloops, B.C.
1993 – Lyle received the Coach of the Year Award for Softball Alberta.
1997 – Lyle was selected head coach for Team Alberta for the Canada Summer Games in Brandon, MB.
1987 – 1993 – Lyle was President of the Intermediate Men's Softball League with 24 men's fast pitch teams.
1998 – 2004 – Lyle was President of the Men's Fast Pitch League in Lethbridge which consisted of three local Lethbridge teams and three aboriginal teams from around the Lethbridge area.
During these years in Lethbridge, Sheila was President of Lethbridge Minor Softball and on the Board of Directors for the building of the new softball complex in the Lethbridge river valley.
After the 1997 Summer Games Lyle decided it was time to retire from coaching. Well, a few years later their two sons formed a senior men's fast pitch team and required a coach. The team coach had to be a certified Level II to participate at provincials. When Lyle declined, the team asked Sheila who agreed to be the manager. Soon after Lyle was back coaching. They travelled game days to Calgary and back home to Lethbridge the same evening. They went undefeated in league play and placed fourth at Provincials.
Lyle ran numerous softball clinics and mentored many minor softball coaches. Lyle would not have enjoyed coaching and instructing at competitions and clinics if he had not had the support from Sheila. She was either there or she was doing the administrative work that goes with it.
Inducted as Sport Builders in 2016.