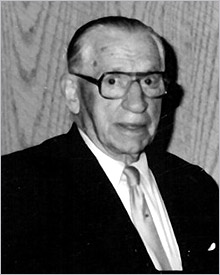 "Raz" began his involvement in the sport of softball as a player in 1933 and moved on to coach teams in the Viking area until 1949.
He began umpiring in 1936 in the Viking area, and in 1954 became a member of the Edmonton and District Umpires Association where he umpired all levels of ball.
It was here that Lauritz had his greatest impact on the sport. He organized umpires, allocated umpires, and helped build a program that is recognized nationally as to the caliber of officials in Alberta.
"Old Man Raz" became a Vice President of Softball Alberta in 1956 and held that position until 1972. He was inducted into the Alberta Sports Hall of Fame in 1978.
Inducted as a Sport Builder in 1983.