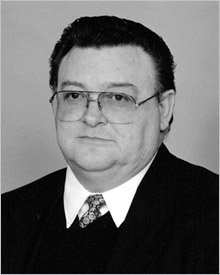 John Simpson initially got his hands wet with the sport of Softball in 1982 as a coach for the Allendale Community teams. In his first year with the organization, Simpson coached every category from T-Ball to Pee Wee, and would become the Sport Director of the Allendale Community League the following year. After leaving Allendale, John continued to coach both the adult and minor categories, and went on to win a Midget B girl's Provincial Championship with the Leduc Legends, as well as a Senior B men's Provincial title with the Leduc Dodgers.
He ascended the volunteer ranks quickly, from President of the South West Zone of the EFCL to the Vice President of the EFCL Softball Council, President of Leduc Minor Softball, and District Organizer for Softball Alberta, to name a few positions. He eventually became the President of Softball Alberta in 1994, and the President of the Western Canadian Softball Association in 1999.
Aside from his Softball Alberta Board responsibilities, John supervised many zone, provincial, Western and Canadian Championships, and was the Softball Alberta representative for the International Softball Exchange in Hokkaido, Japan from 1997 to 1998. He was awarded the Softball Alberta Merit Award in 1992, and the Citizen of Distinction Athletic Award from the City of Leduc in 2004.
John was an athlete, coach, umpire, and administrator to the sport of softball who was known throughout the softball community as a decision maker, and a man that listened to both sides of the story. As president, John guided Softball Alberta through some tough times that would have made others resign. His perseverance demonstrated to many that he could be someone to count on.
Inducted as a Sport Builder in 2007.