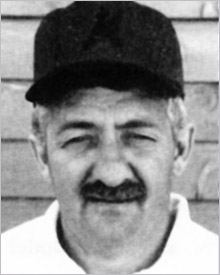 Jim Reed first became involved with softball in Alberta in 1973 when he moved to our province to play for the Edmonton Monarchs of the Western Major Fastball League (WMFL). In 1975, he traded in his cleats for the challenge of coaching and led the Monarchs to the WMFL Championship.
Jim, along with ten other Camrose businessmen, formed the Camrose Merchants organization in 1976.
He coached the Merchants at several Canadian Championships; they earned a silver medal in 1982, a bronze medal in 1983, and finally brought home the gold medal in 1984.
A continuous promoter of fastball, Reed was instrumental in the formation of both Midget and Junior boys teams, as well as a Senior Women's team in the Camrose area.
Always a character, Reed hated to lose. The Camrose Merchants teams were always competitive which is a tribute to his coaching and recruiting ability.
Inducted as a Sport Builder in 1991.