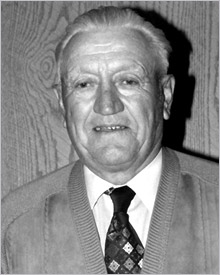 Henry Singer of Spruce Grove started playing softball at St. Michael's School, just north of Spruce Grove in 1939.
He organized, played on, and coached teams that went to Provincial Championships and was honored by the City of Spruce Grove for his contributions to ball in the area by naming the new ball park, the " Henry Singer Industrial Ball Park."
Henry was involved in a number of sports in the area and umpired many youth games, as well as the tournament scheduler for Spruce Grove ball games for years.
An all round promoter of the sport of softball, he even tried his hand at 60+ Slo-Pitch for a year.
Inducted as a Sport Builder in 1982.