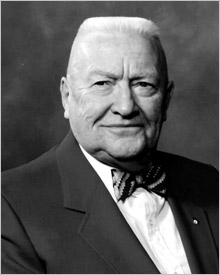 An all round sportsman, Ed Corbett of Calgary was active in Calgary sport both playing and administering for over 60 years.
The "Old Man" as he was affectionately known, was the President of Softball Alberta from 1954 to 1955 aswell as in 1981.
He served 22 years with Softball Canada as President and/or Past President of their Association.
Ed was inducted into the Alberta Sports Hall of Fame in 1966 and the Softball Canada Hall of Fame in 1987.
Inducted as a Sport Builder in 1987
Inducted as an Athlete in 2000