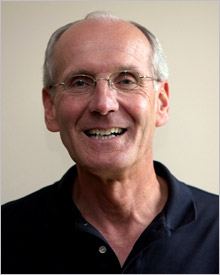 Dick Feser got his start playing baseball at a very good level when he attended St. Thomas College in North Battleford. He had coaches like John Ford who worked at Hunter Sports for Bill Hunter, and Ivor McKnight (who both played with the North Battleford Beavers Senior Baseball team). Dick was fortunate enough to be with this group for the next three years (63-65).
One of the reasons Dick likely started coaching was due to Emile Francis (hockey icon), who was born in North Battleford and frequently came back from the NHL. He was such a special person in his way with young people and his drive to succeed; an awesome coaching model.
Dick started playing fastball for the first time in Alberta in 1966. It took some time to get the feel for this very large ball and very short baselines. He played fastball as a third baseman from 1967 -81.
In 1982 Dick's oldest daughter began playing softball at the squirt level. His coaching career began in 1983 when he coached the Red Deer Squirt 'A' Girls Roadrunners to the provincial final. In 1985 he coached the Red Deer Pee Wee 'A' Girls to the provincial gold medal. Dick coached the 1989 and 1992 Red Deer Midget 'A' Girls to a Provincial Championship gold medal and a fourth place finish at the Canadian Championship both years.
Although his coaching career was far from over, he was awarded the "3M Award for Coaching Excellence" in 1987.
Dick started instructing NCCP Coaching Clinics with Softball Alberta in 1991, a commitment that would continue for the next 20 years.
In 1993, he was a co-coach of Team Alberta at the Canada Summer Games and assistant coach at the 2001 Canada Summer Games where Team Alberta captured the silver medal.
In 1994, Dick was awarded the City of Red Deer Sportsman of the Year Award for his contributions to softball.
He was a co-coach of the Softball Alberta select ladies fast pitch team that travelled to Hokkaido, Japan in 1997 where they played games against their Japanese counterparts.
In 1998, Dick was the Chairperson of the Midget Girls Fast Pitch Canadian Championship hosted in Red Deer.
From 2004-2005 he was an Assistant Coach of the Red Deer College Queens Fast Pitch team in the college fall league.
Dick's coaching career spanned 23 years from 1983-2005. He coached at all levels from squirt girls to junior women. In recent years he has been involved in pitching clinics and NCCP Clinics.
A true gentleman, Dick's soft-spoken nature commanded respect not only from his players but from everyone who came in contact with him.
Inducted as a Sport Builder in 2011.