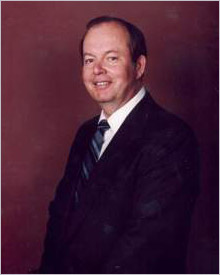 Dale has coached softball for 33 years and has also been a volunteer and friend of softball for all those years. He has helped many players be better players and good citizens.
Dale played little league baseball growing up in Manitoba and Saskatchewan and he later played for 2 years in Faust, Alberta in the Men's League there. Dale and his wife, Lucille, had two children, Keri and Murray, who both played softball. When Lucille passed away in 1993, Dale remarried Verla in 1995. Verla helped Dale by being the manager of a Pee Wee Girls team in Leduc.
Dale started coaching career in Winnipeg, Manitoba in 1964, coaching a community league bantam girls team. In 1966 he was an assistant coach with the Westend Tigerettes Senior Ladies Team.
When he moved to Faust, Alberta in 1968, he coached an Intermediate B Ladies team for two years and in 1969 they came second in their zone provincial playoffs. Dale was then transferred to Peace River in the fall of 1969 where he coached the Strong Creek Ladies team from 1970 to 1972. In 1973 he formed the Papp's Trucking Ladies Team and had an impressive record of forty nine wins and two losses. At the Mannville Mammoth tournament they won the second division defeating several Junior A teams from Edmonton. The team won first place in the Intermediate B Ladies Provincials which were played in Lethbridge. Dale continued to coach this team until 1975.
Dale coached an Intermediate Ladies team and Junior B Ladies, called the Red Deer Peacock Inn, for two seasons from 1978 – 1979. He and Marilyn Archibald coached the Peacock Inn Senior A Ladies team with players from Red Deer and Edmonton and played in the Calgary Ladies League. They won a silver medal in the Provincials that year.
Between 1981 and 1985 he started coaching an Intermediate Ladies team in Ponoka, Big Way Foods. They did not play in a league but played exhibition games with Edmonton, Camrose and Riley teams at the Senior B, Intermediate, and Junior level. They hosted and won the Intermediate B Provincials. In 1984 Dale took this team on a tour to Phoenix, playing exhibition games against Senior A & B, and Junior teams. The team had their first outdoor practice in Phoenix whilst the other teams had been playing most of the winter.
From 1985 – 1988 Dale coached a Pee Wee girls team in Ponoka. They won the gold medal in Pee Wee C Provincials which were played in Leduc. In 1991 and 1992 he coached a Bantam and Pee Wee Girls team in Beaumont and in 1993 and 1994 he coached the Leduc Bantam and Pee Wee Girls teams.
In 1976, Dale was the Governor of Softball Alberta for Zone 4, and from 1977 – 1979 he was the District Organizer for Zone 4. From 1977 -1984, Dale was Softball Alberta's commissioner to Softball Canada.
While in Red Deer, Dale organized the sport of Softball in the Alberta Summer Games and twice hosted the Junior A Ladies provincials. He also organized three Softball Alberta Annual meetings. Dale was very helpful in getting facilities and rooms for the Softball Alberta executive meetings.
While in Red Deer, Dale was also a member of the local Umpire Association and was an official in the Junior Men's provincials held in Brooks and Red Deer. Dale officiated at the Senior B Men's Western Canada Championships in Lethbridge. As a Level I and II coaching instructor Dale conducted many NCCP clinics throughout central and northern Alberta.
Inducted as a Sport Builder in 2009.