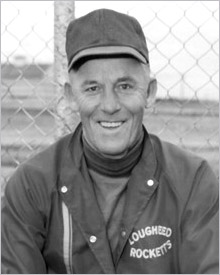 Connie Ingvaldson began his softball days by organizing a girls ball team in Lougheed, Alberta in the early 1960's. He had no idea at the time that it would lead to four Provincial Championships and his induction into the Softball Alberta Hall of Fame.
He would coach teams from Lougheed that would bring home Provincial Championships in 1965, 1971, 1974 and 1979.
Discipline was his key to success. He showed his players how to teach accept discipline as well as to discipline themselves. His teams played a high caliber of ball and displayed high standards of sportsmanship. Connie Ingvaldson and the Rockettes became known locally and provincially as one of the best programs in Alberta.
Inducted as a Sport Builder in 1990.