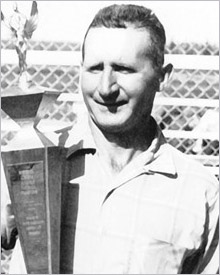 Clayton Monoghan of Falun, Alberta, worked hard at promoting sport in general in the Falun area but in particular had a passion for the sport of softball.
His interest in softball would set off a chain reaction in the community that would inspire other interest and the development of teams in both boys and girls divisions that would challenge for all categories of softball in Provincial Championships.
His patience, understanding, leadership, and sense of community will always be remembered.
Inducted as a Sport Builder in 1987.