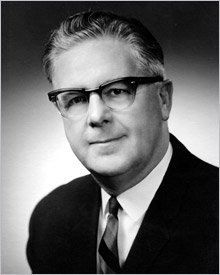 Clare Hollingsworth of Edmonton figured prominently in Softball Alberta during the 1930's, the 1940's and the early 1950's.
His teams were always among the leaders and he contributed generously in executive roles to improve the sport in Edmonton, Alberta, Western Canada and Canada.
Clare was also a former President of Softball Alberta in 1948 and President of Softball Canada in 1954.
He also carved out a niche as a coach as he headed up the Muttart Lumber and Army and Navy Pats Ladies teams.
Inducted as a Sport Builder in 1984.