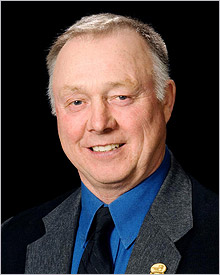 Born and raised in the Wetaskiwin area of Alberta , Brian Brown has always had a passion for sports. He played slow pitch in Falun, Alberta for six years and played hockey for the Falun Hockey Club for 25. However, once his sons showed interest in playing sports, Brian became involved in coaching both fastball and hockey.
He began coaching men's fastball in the Falun community in 1980. As the team moved through the different age levels, Brian and his team shared numerous achievements including earning gold in six provincial championships, representing Alberta in the 1987 Western Canadian Championships (placing fourth), and representing Alberta at the 1990 Midget Boy's National Championships where they placed fifth.
Besides coaching, Brian's time was also occupied with the administration of Falun's fastball program. This involved organizing tournaments as well as acting as chauffer, grounds keeper and coordinator. Brian was also instrumental in having Falun's diamonds upgraded with shale, bleachers and players dugouts. It was during his coaching years that Falun became known as the "Fastball Capital" of Alberta.
Brian was selected to receive the Alberta Amateur Softball Association's Award of Merit for his contributions to softball in his community. In 1988, he received the Winter Olympic Coach Award and during his involvement with the Wetaskiwin Icemen hockey team, was given an honorary 'Iron Man Award' for attending all games and practices, an award typically given to players. Finally, due to his outstanding contributions to the young people of the Wetaskiwin community through his coaching of hockey and fastball, Brian was inducted into the Wetaskiwin and County Sports Hall of Fame in 2010.