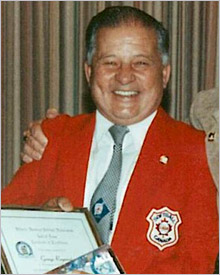 George Rayment first went into umpiring softball in 1968. Initially for the first two years, he helped in umpiring minor programs and leagues that could not be covered by the Calgary Softball Umpires Association, he then joined them in 1970. From 1973 – 1978, George served as Umpire-In-Chief of the CSUA. He was also Vice president for the Alberta Softball Umpires Association from 1978 – 1982. Along with this, he served the ASUA as one of the chief instructors for the provincial zone clinics.
As an umpire, George worked numerous Provincial Championships from Minor to Senior categories from Fort McMurray to Lethbridge. He was awarded the prestigious Level V status in officiating from Softball Canada. George then became Deputy Umpire-In-Chief for the Softball Canada Officiating Committee.
During his career, George attended 17 National Championships either as an official, DUIC or UIC. Internationally, George represented Canada and Alberta as an official at the World Championships in El Salvador in 1978 and the World Youth Championships in 1985 in Minot, North Dakota.
Inducted as an Official in 1991.