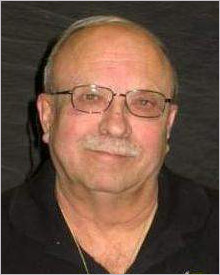 Al Shenduk began playing in the Edmonton Men's Fastball League in 1967. Ten years later, he won the Senior 'B' Men's Provincials with the Monarch Auto Body. Also in 1977, Al registered as an umpire with Softball Canada, thereby beginning an impressive and respectful career as an umpire, administrator, volunteer and ambassador for the sport which would take him across Canada and elsewhere.
While working as a psychologist, Al held several board positions with the Edmonton and District Softball Umpires Association and has contributed to and hosted several Softball Canada Umpire Certification Clinics. Al has umpired in 5 National Championships and 7 Western Canadian Championships. He has won many awards along the way including Alberta Umpire of the Year in 1990, the Government of Alberta Provincial Recognition Award and HSRS Umpire of the Year in 1999, the Presidents Award (for service to Softball Alberta over and above the call of duty) in both 1997 and 2005 and finally, was a Softball Canada Indicator Club Recipient in 1997. As well, he has been and currently is a member of numerous host committees for Western Canadian and National Championships.
Al had served as Umpire in Chief of Softball Alberta for 16 years before retiring at the end of 2005. He had set the bar very high during these years as the UIC and had developed the provincial umpire program into what can be currently regarded as one of the best in Canada.
Inducted as an Official in 2006.