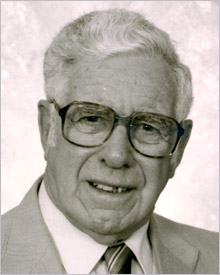 Alex began his career as an umpire in 1955 with the Edmonton & District Softball Umpires Association, of which he was a member of for about 32 years. In 1963, he was elected Treasurer of the EDSUA, in which he held this title for three years and from 1965 – 1968, he served as the Secretary-Treasurer of the ASUA. Alex was elected president of the Alberta Softball Umpires Association in 1968 and served in that capacity for 19 years.
Alex assisted with umpire clinics from 1963 – 1974. He was DUIC for the Senior Women's National Championships in 1970 ( Calgary) and 1972 ( Edmonton), as well as the Senior Men's National Championships in 1974 ( Edmonton). Alex also helped establish the format used for the selection of umpires for the Junior Men's Provincial Championships.
Until ASUA and Softball Alberta merged in 1978, Alex consulted with the Provincial Government (1965 – 1978) for funding in order to carry out umpire clinics throughout the Province.
Inducted as an Official in 1989