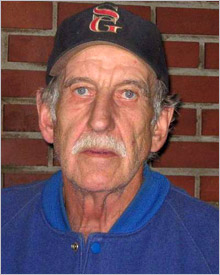 Stan Kern grew up in Alberta on a farm five miles west of the City of Leduc. Kern who was always big for his age became one of the most feared and power throwing pitchers in the sport of Fastball, starting out in Alberta and then becoming a legend in the sport with Victoria area teams in the 1970's.
As a farm boy, Stan remembers having to get all his farm work done before he could venture out to play a game he learned to love. His parents were never keen on letting him leave the farm to play but his early memories of ball were playing with Fredericksheim which was the beginning of the South Edmonton Rural Fastball league that included teams from Rollyview, Looma, New Sarepta and Leduc. Kern was eighteen at the time.
Kern began playing as a third baseman but watched Ivan Wanderman of Leduc pitch and thought it would be neat to be able to throw like that – little did he know at the time that he would become one of the best windmill pitchers in the world in a very short time.
Kern would then join up with Rollyview to play in juniors and they won the Jr. Provincials playing in Calgary and beating Calgary.
He would then move on to play with Leduc for a couple of years before moving into Edmonton to play with the Edmonton Playboys.
He has remained in BC and lives on a farm just outside of Abbotsford, BC. All three of his kids were born in Leduc – Trevor, Michele, and Rhonda. Trevor became a feared left handed pitcher and his daughter Michele was a pitcher as well, playing in Vancouver. Rhonda played up until Midget but then left the game.
Stan turned to coaching after he retired and reminisces about coaching Junior Men's and winning the Canadian Championships in 1987 in Abbotsford. Those were fun times coaching. There were many years coaching Men's teams that were not a lot of fun because the game and the commitment level had changed so much.
For seventeen years, Stan Kern was involved in Fastball. He spent seven years with the Victoria Bates, possibly one of the greatest teams of all time, at least in Canada. The Bates were co-winners of the the 1976 World Fastball Championships staged in New Zealand.
His resume would include three Canadian Championship wins as well as five visits to the Canadian Championships as a member of teams from Alberta – Edmonton Playboys, Betta Well Riggers, Calgary Power Chiefs and Edmonton Sun Life Red Sox.
Kern was named the Canadian Championships Top Pitcher in 1969 while a pick up for the Calgary Power Chiefs at the Canadian Championships in Saskatoon, Saskatchewan. The Power Chiefs would go on to take the Bronze medal losing to Saskatoon and Hull, Quebec. Saskatoon took the gold medal.
In 1969 he was persuaded by Herb Bate of Victoria to move to Victoria and pitch for the Victoria Bates. However, he would not end up in Victoria until 1973, he finally made the move and has been there ever since. The "Colonel" as he became to be known, was a huge menacing figure on the mound who owned the inside of the plate. He did just about everything he could do in the sport of fastball, from locally to provincially to Canadian Championships and then on to International play.
Stan himself says it was great to be able to play on teams that you knew the players were going to show up for every game and took it seriously. You always knew that they were going to get the hit to score some runs if you could just keep the other teams off of the scoreboard.
Stan Kern was inducted into the Softball Canada Hall of Fame Athletes Category in 1980 and into the Softball BC Hall of Fame Athletes Category in 1989.
Inducted as an Athlete in 2008