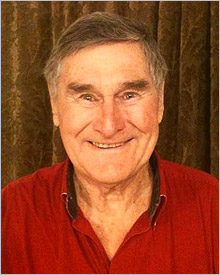 Stan Hay's love of the game began as he grew up playing baseball in Swalwell, Alberta – a small hamlet outside of Calgary. After moving to Calgary, he continued to play baseball for a number of years before making the switch to fastball, which he played throughout his 20s and early 30s and also coached.
A friend noticed that Stan was no longer playing or coaching, so suggested that he try umpiring. Stan was quickly recognized as an outstanding umpire and received the Rookie Umpire of the Year Award in his first year of umpiring from the Calgary Softball Umpires Association in 1974. He was continually noted as an excellent umpire who was well known for his clear, crisp calls.
For 26 years, Stan officiated and acted as Umpire in Chief at numerous high level fastball tournaments across Canada. Further, Stan served as President of the Calgary Softball Umpires Association from 1980-84 and served on the association's Executive for a total of 10 years. From 1980-85 he served as Vice-President of the Alberta Softball Umpires Association and from 1986-1991 he served on Softball Canada's Officiating Development Committee.
Following an excellent 26 year career, Stan retired as an active umpire in 1999 and in 2000 he received the annual 'Legends Award' from the Calgary Softball Umpires Association – recognizing him for his long service and giving back to the program.
Inducted as an Official in 2010.