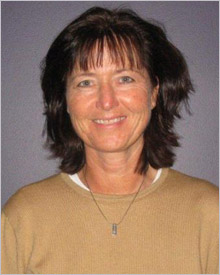 Born in 1960, Sherry Ann Knutsvig grew up in the small city of Camrose, Alberta. A talented, dedicated and committed sportswoman since her successful start at the Camrose Composite High School, she excelled in basketball and fastball, breaking scoring records as well as earning Most Valuable Player, All-Star, and Female Athlete of the Year Honours. From the beginning, her parents' encouragement and support were instrumental in her success. At the young age of 12, she began her illustrious softball career, which over the years has blossomed into an impressive resume.
Sherry started playing fastball on a community team in Camrose and continued playing in her home town through Bantam, Midget and Junior age levels. At the Junior "A" level she helped lead her Camrose Imperials team to two Provincial Championships and two Canadian Championships. Playing before a hometown crowd and winning the first Canadian Championship in two extra-inning games was a career highlight. Sherry led her team with a .429 tournament batting average.
After moving to Edmonton to attend the U of A, Sherry went on to play at the Senior "A" level with several successful Edmonton based teams including the Edmonton Blues, Edmonton Fillies, and ten years with the Calahoo Erins. She amassed an impressive eleven provincial medals with ten gold and one silver; six Canadian Championship medals with two gold, three silver and one bronze. Sherry's versatility allowed her to easily adjust to any position. She played a number of years at first base, but has also played every other defensive position as requested.
She continued her career at the Intermediate and Master's levels playing for the Edmonton Capitals, Edmonton Lakers, and Silverline teams. She helped these teams win ten Provincial Championships and three Silver medals. They also earned medals at Western Canadian Championships, winning two Gold's, one Silver, and two Bronze's. She continues to play fastball at the Master's level.
Some of Sherry's personal accolades include:
1979 – All-Star – First Base – Canadian Junior Women's Championship
1989 – The City of Edmonton Athletic Award
1989 – Alberta Achievement Award – Outstanding Competitive Performance – Fastball
1991 – Alberta Achievement Award – Outstanding Competitive Performance – Fastball
2005 – Awarded Top Batter honours – Western Canadian Championship
2005 – Softball Alberta Adult Fastball Female Player of the Year
Sherry is a person who exemplifies dedication and commitment; be it on the fastball diamond or in everyday life. She is not demonstrative, loud or flashy. In spite of this she stands out. Her self-discipline, motivation, and intelligence in handling intense situations with levity are her most notable qualities. She is a quiet leader, one who commands respect. Her success, at different sports at high levels indicates how she excels and gives her all, no matter how strong the opponent, or how dreary the outlook may be for the team.
Sherry is a true sportswoman, who pushes herself to be the best, while raising the play of others around her.
Her 38 years as a player is a testament to her love for the game of softball. She elevated the performance and success of every team that she has played with.
Inducted as an Athlete in 2011