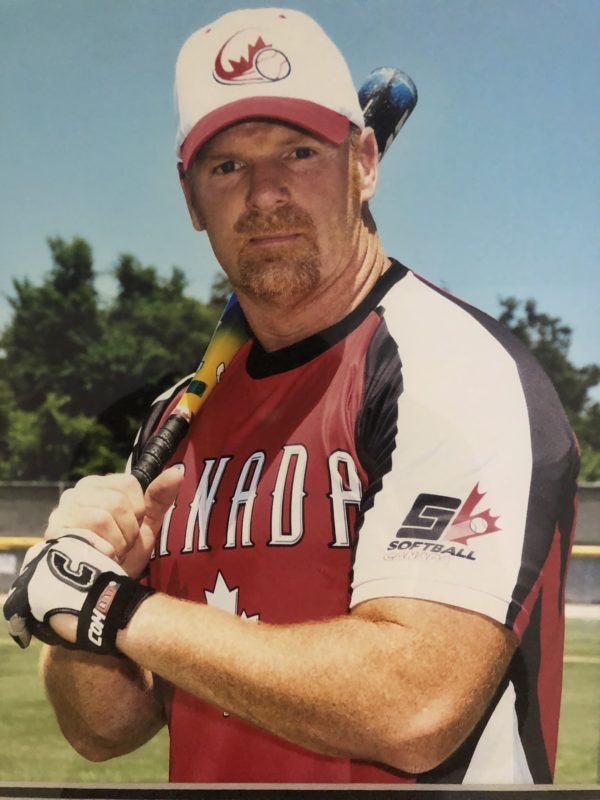 In the world of slo-pitch softball in Alberta, Shawn Wallace is widely recognized as one of the best. Not just one of the best players, but one of the best, most genuine and friendly people in the game. For those reasons, Shawn has been an ambassador of the game for Alberta throughout Canada and the United States for more than 3 decades.
Shawn's "Men's A" playing career began in the late 80's in Calgary and continued through 2016 at the conclusion of the Canadian Championships in Whitehorse. Over the years of playing slo-pitch, Shawn was a great teammate who took greater pleasure in team success than in personal success and accomplishments. He was more than happy to drive from Grande Prairie to Lethbridge to go to battle with his teammates. In true Shawn fashion, even after hours in a car, he was likely the first to volunteer to sit on the bench, so his teammates didn't have to. His love of the game was infectious. From conversations with teammates, friends or strangers about the game over a beer, to helping give pointers for others to get better, Shawn was always there to promote and grow the game.
Like most greats in their chosen sport, Shawn's playing career spans over several years, on several teams, with hundreds of different teammates. It is with 100% certainty, that each one of those teammates would tell you what a great player and great teammate Shawn Wallace is and was. Shawn's 'team first' attitude and amazing skill had a way of making each of his teammates that much better and is a huge reason the teams that he played on had such great success.
In the late 80's Shawn began playing slo-pitch in Calgary. It was here that Shawn was "discovered" and was asked to play Men's A for the first time. In 1994, Shawn and his TPS teammates won a bronze medal at the Softball Canada Canadian Championships. This was significant for men's slo-pitch in Alberta as this was the last medal that a men's team from Alberta would win, until Shawn and his Alberta Oilmen teammates won gold in 2013. Shawn is the only player to have been part of both those teams, 19 years apart.
In 1992, Shawn and family moved from Calgary to Grande Prairie but the distance from his team, primarily located in the Calgary area at that time, did not stop Shawn from continuing to play the game he loved. The distance meant extra days off work as well as many hours and many kilometers in the car, to and from tournaments. In addition to tournament play, Shawn also continued to play locally in Grande Prairie. Although the play in the region was primarily recreational and truly grassroots, Shawn's impact on the slo-pitch community in the Grande Prairie area cannot be understated. His impact and contributions were recognized by the community in 2012 when they named the main diamond after him at South Bear Creek Park in Grande Prairie. A deserving honour for a truly great person.
In 2000, Shawn and a group of players from Grande Prairie and area named the Cool-Line Cannons, attended the Men's Western Canadian Championships in Gimli, MB. Shawn led his team to a Gold Medal at these Westerns, while also personally winning the Tournament MVP and Top Hitter awards.
In 2009, Softball Canada & USA Softball began the Border Battle. An annual event that would see Team Canada and Team USA along with a few other local all-star caliber teams play a series of warm-up games, culminating with the annual Border Battle game between Team Canada and Team USA. Shawn was the only player from Alberta selected to the team in 2009. Shawn and his Canadian teammates lost a hard-fought battle to Team USA 30-23. In 2010, Shawn was once again selected to Team Canada and helped to even the series as Team Canada teammates was victorious 30-29 over Team USA.
Shawn joined the Alberta Oilmen in 2010 and instantly proved to be a key component to the team and their success. Shawn and the Oilmen went on to win 7 Provincial Gold medals, 2 Canadian Championship Gold medals and a Canadian Championship Bronze medal before he took a step back from the game in 2016 to concentrate on his family and his business.
A few noteworthy accomplishments & accolades that Shawn has collected over the years include:
–         19 Softball Alberta Provincial Men's Championship Gold Medals
–         13 Softball Canada Men's Slo-pitch Canadian Championship appearances
–         2 Softball Canada Men's Slo-pitch Canadian Championship Gold Medals (2013 & 2015)
–         2 Softball Canada Men's Slo-pitch Canadian Championship Bronze Medal (1994 & 2016)
–         3 Softball Canada Men's Slo-pitch Canadian Championship All-star Awards
–         1 Western Canadian Men's Slo-pitch Championship Gold Medal (2000)
–         2000 Western Canadian Men's Slo-pitch Championship Tournament MVP & Top Hitter
–         1 Softball Alberta Male Slo-pitch Player of the Year (2008)
–         2 time member of Team Canada – Border Battle (2009 & 2010)
Inducted as an Athlete in 2019