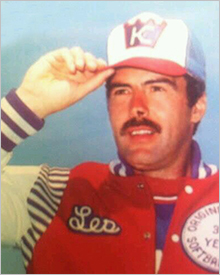 This cricket-turned-softball player, originally from Belfast, Ireland, was first introduced to the sport of softball 1958 when he won a long throw contest at a school field day. Les began his Senior A career in Ontario, and was later transferred to Alberta, where he embarked on his memorable fastball career with the Gulfco Oilers in the Edmonton Men's League.
At the ripe age of 20, Les led his team and the league in RBI's, and was chosen as an All-Star first baseman at the mammoth Mannville tournament. This catcher was known throughout the league for his incredible batting skills, which would lead to him becoming quite the commodity in both the Edmonton Men's League and
in western Canada. His reputation caught the attention of THE King, Eddie Feigner, who recruited Les to play for The King and his Court in 1974. Les became a catcher with great endurance during his two years with the King; they played over 200 games in the 1975 season alone, winning 46 games straight at one point, and at times, played up to 14 games in a week.
Stamina aside, the group got the opportunity to travel all around North America and to the Dominican Republic to showcase their talents. Les also toured with Jack and the Jesters, a four-man touring team that played throughout Ontario and Quebec.
He took a break from traveling in 1979, and went to play for the Red Deer Diplomats, with whom he made the 1st All-Star team at the Camrose World Series of Fastball tournament two years consecutively. After a brief hiatus, Barber returned to the King and his Court, where he had the opportunity to play in front of 56,000 fans at Dodger Stadium.
Throughout his lengthy fastball career, Les was known for being an incredible and reliable batter, and was considered by many in the softball world as the best softball catcher alive.
Inducted as an Athlete in 2007