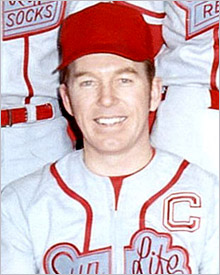 arry Lundy began playing Mens 1 st Division Fastball with the Edmonton Playboys in 1965. Quickly recognized as one of Edmonton's premier Fastballers, his quick glove and incredibly strong throwing arm won him the team MVP title in 1965 and 1966 and was selected as the All-star 3 rd baseman at the Canadian Sr. A Fastball Championships in 1967.
In 1968, his team became known as the Beta Well Riggers and they represented Alberta in the Canadian Sr. A Fastball Championships held in St. Catherines, ON. Still with the Riggers, Harry was nominated as team MVP for the season in 1969. In 1970, Harry was nominated Captain of the Sun Life Red Socks and won the league batting championship that year with an outstanding .383 average. In 1973, Harry joined the Western Major Fastball League as captain of the Edmonton Monarchs where he played for 2 years.
In 1982, Harry was named captain of the 'Edmonton Selects' Masters fast pitch team which went on to win 2 Gold, 2 Silver and 1 Bronze medal in the Western Canadian Master's Championships over a 5 year period. He retired from fast pitch softball in 1988.
Harry resumed playing softball on a Sr. Mens Slo-Pitch team in 1992 and continued playing until his retirement in 2003.
Harry was known as a tremendous asset to any softball team he played with. His strong character and leadership qualities enabled him to serve as captain to many of the great teams of the '60s, '70s and '80s.
Inducted as an Athlete in 2010