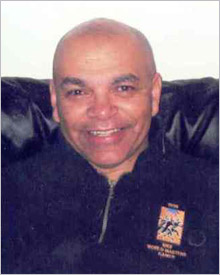 Originally from Toronto, George Chapman started his Senior A fastball career at the age of 17 as a player for the Toronto Beaches League. In 1971, he had quite a season with the Richmond Dynes Fastball Club, winning the Ontario Provincial Fastball Championship, and the Canadian Senior Men's Fastball Championship, which allowed the team to represent Canada at the 1972 World Softball Championship in Manila, Philippines. The team won the tournament, becoming the first Canadian team to do so, and George was selected as All World First Basemen.
This success caught the attention of the Edmonton Monarchs of the Western Major Fastball League, who invited George to play for them the following year. He was a perennial all-star in the league, and chalked up the following awards and recognitions: All-Star First Baseman, Most Popular Player as selected by the fans, League-leader in stolen bases, and Most Valuable Player. These awards were on top of winning the league championship in 1974 and 1975, as well as the World Series of Fastball champions in 1977 and 1978.
After retiring from Senior A ball, George joined the Edmonton Selects Masters, and helped them to become league champions for three consecutive years, as well as representatives of Alberta in the Masters Western Canadian Championships. His impressive bat reigned supreme in the league, and George was the Edmonton Selects Top Batter in 1990. He ended his career in 1998, when he was asked to play for a Calgary team in the World Masters games in Portland, Oregon. George won the silver medal at the tournament, where he would retire from the sport of softball after a memorable and thriving career that spanned three decades.
Inducted as an Athlete in 2007