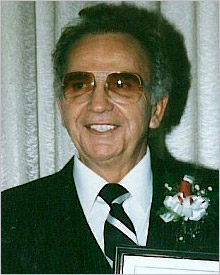 Ed was born in Lethbridge and began playing junior softball at the age of 15 with the Lethbridge No. 3 Dodgers. This team went on to win numerous junior provincial titles and a junior Western Canadian Championship.
He continued playing ball with this team until he was 18 and then moved up to senior ball and played with the Shaughnessy Cadillacs in the Lethbridge Sr. Men's league. This team won Alberta Senior Men's provincial titles in 1947 & in 1950. In 1950, the team lost the Western Canadian semi- final in extra innings (11) to the Vancouver Firemen who eventually were runners up in the Dominion Championships that year.
Ed eventually moved to Vancouver in 1951 to play with the Vancouver Giroday, ironically playing his first game there, a WIN, against the Vancouver Firemen, who beat him in 11 innings the prior year for his only loss of that year! . Ed eventually returned back to Lethbridge to resume his playing career at home. But then, upon receiving another offer, Ed moved to Victoria in 1954 to play with the Gorge Hotel team in Victoria. This team won several senior provincial championships.
In 1967, Ed moved on to coaching the Vancouver Fraser Arms Hotel Senior Men's team. Thinking his coaching days were over…. Ed got a call from the Calgary Braves of the Western Major Fastball League to coach and so Ed moved back to Alberta in 1974. Ed was named the league's Coach of the Year in 1974. Now retired out of ball again…. He got a call from the Red Deer Corvettes in 1978 to come and coach their team, eventually winning the WMFL championship that year!
Inducted as an Athlete in 1985