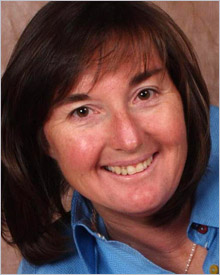 Born in 1971, Debbie grew up in Leduc, Alberta the oldest of three daughters to Leroy and Karen Sonnenberg. Her dad Leroy had been fastball pitcher in his early years but Debbie's position was catcher until she reached the midget age. Her Mom, Dad and family were always there to cheer her on and encourage her in the sport.
It might have been her early years as a catcher in Leduc that allowed her to realize what it takes to become the most dominant pitcher in Canada, and maybe the world.
Debbie's dream was to pitch for Canada. She wanted to work as hard as she could her whole life, if it took that long, to wear a maple leaf on her jersey. Her license plate once read 21K OUT which meant 21 strikeouts – absolutely perfect.
Debbie was extremely dedicated, powerful, intimidating and focused. Her work ethic, which would serve her well later in life, was something that former coach Tony Foti marveled at. Being left handed helped and combined with, being a little wild at times, worked to her advantage.
In 1994, Debbie stepped into the spotlight for Team Canada at the World Championships in Newfoundland. She pitched a complete game, a 1-0, twelve inning victory over New Zealand to qualify for the Atlanta Olympics. This game may have identified her to all of Canada as one of the best fastpitch pitchers in the game.
As a player, Deb has had an illustrious career. She was a member of the Canadian national Women's Team from 1994 to 1996. In those years she attended 2 Pan American Games, 1 World Championship and the Olympics. In the 1994 Pan American Games she was awarded Top Pitcher with an ERA of 0.00.
Deb also has an impressive Canadian National Championship history. She has attained 5 Gold, 5 Silver and 6 Bronze medals throughout her career. She is a 10 times All Star Canadian, MVP pitcher in 1990, 1993, 1994, 1995 and 2005. MVP in 1994 & 1995 and she pitched back to back perfect games in the 1993 Championships.
Deb's out of country accomplishments are many. She is a 2 time Gold medalist in the New Zealand National Championships, taking the MVP award in 1995 and 1996 along with Top Pitcher in 1995 & 1996. Her College Softball career looks like this:
Huntingdon College, Montgomery, AL (1991-94)
Four (4) time NAIA All-American
Three (3) time player of the year in the Conference (1992-94)
Four (4) time all District Team
Four (4) consecutive NCAA Division II National Championship appearances finishing 2nd, 3rd, 5th and 7th
1992 Conference Scholar Athlete of the Year
3rd place finishes in the College World Series in 1992 and 1994
Numerous Huntingdon College and NAIA record for wins and strikeouts in a season and career
Last Collegiate win at an NAIA tournament – Perfect game with 19 strikeouts and hit a 3 run home run to win 3-0.
Deb continues to give to the sport through her pitching instruction and camps. She has over 12 years at various Universities in the United States and is the owner and instructor of Perfect Circle Consulting since 2004. She is a member of the CANpitch committee for Softball Canada and is an integral part of putting the program together and the programs continual growth.
A master of the game, one of the premier pitching instructors & a truly dedicated athlete, Deb's career was in jeopardy in the spring of 1998 when she was severely injured in an auto accident & missed nearly 2 years of softball.
Her determination and drive saw her return to the field in 1999 leading Smitty's to the National Championship in 2000, 2001 and 2002.
Debbie continued to play, and received additional awards while leading her teams to a medal in every single national championship she participated in dating all the way back to 1991. After her injuries, she returned home to Alberta to pitch for many years with the Calahoo Erins with Al Schwartz and Dave Bumstead.
A member of the Softball Canada national pitching committee, Deb was re-invited by Senior Women's national Team head coach Mark Smith to return to the Senior team in 2010, but she declined. She is now a dedicated mother and being away from her daughter is not something that she would consider.
Deb Sonnenberg was the most dominant pitcher in Canadian Women's Fastball from 1991-1997. Her perseverance and desire to be the very best centered around her belief in her team mates and coaches and her respect for officials. She made everyone around her better, and her desire to excel was contagious..
Inducted as an Athlete in 2011