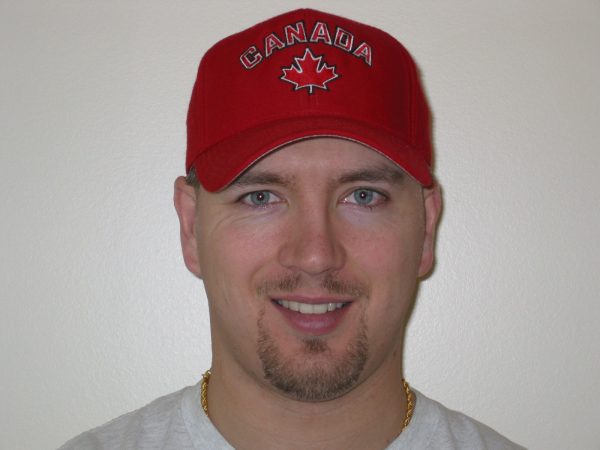 Darren is one of the top male fastpitch players in Alberta, Canada and maybe the world in the past 20 years. He was that good and a player who challenged the vaunted "five tool player" superlative that is used in baseball circles.
Boxy could hit for average, hit for power, was extremely fast on the base paths and he had a cannon of an arm and a good glove either catching or at first base. Darren did excel at those five areas of the game. His bat was what made people notice him early but when he got on base, teams did not expect a catcher to be able to steal a base, go first to third on singles, or score from first on double in the gap.
Darren benefitted greatly from the Edmonton Express as he moved from Junior to play for the Sr. A Champions (1999) in a time when Senior A ball was in decline in Edmonton, Alberta and Western Canada for that matter. When the Express signed Dean Holoien, Boxy had to catch for him. Dean at the time was one of the fiercest competitors on the diamond and Darren was able to bat around him, getting him the pitch selection that he needed to power the ball out of the yard.
Darren would move from the Express to play with the Broken Bow Travelers out of Broken Bow, NE. This team was owned and coached by the legend of fastball Ron "Doc" Simmons. Boxy would play for Broken Bow for five years winning three (3) ISC Championships — 2001, 2003 and 2004. He would be named three times as All World Catcher and was named ISC World Tournament MVP in 2001 and lead the ISC tournament in RBI's in 2002 with 11.
All this time, Boxy lived in Edmonton and commuted back and forth on weekends. His job in Edmonton as a private investigator allowed him to get away on the weekend and jet all around North America playing the game he loved. He would continue with this plan playing with the Calgary Diamondbacks, the Aspen Interiors (Saskatoon), Vancouver Grey Sox, the St. Thomas Evergreens, So Cal Bombers (Yucaipa, CA) and the Horse Lake Thunder. Darren finished out his career with the California A's of Bakersfield at the ISC tournament and in 2009 played his last Softball Canada affiliated tournament with the West Side Charlies of St. John's, NL.
From the homesteader community league in Edmonton as a young boy to the Softball Canada National team and to All World Catcher in the ISC, not once but three times, Darren has the statistics of legends. Boxy was named to the Softball Canada National 40 man roster in the year 2000. His tenure with the National team would include many National team camps and attendance at the following events:
• 2002 Pan Am Games Championships — Guatemala City, Guatemala
• 2003 Skins games in Kelowna, BC
• 2004 ISF World Championships in Christchurch, NZ
Darren Box did it all in his softball career. He brought great notoriety to the province of Alberta and Canada and carried himself well on and off the diamond.
He was truly one of the top male fastpitch players in Alberta, Western Canada, Canada, the United States and the world. His achievements include:
1997-1998 Junior Canadians – Bronc's Athletic Club – All Canadian Catcher Award
1999   Edmonton Express – Senior A Canadian Champs & Softball Canada Hall of Fame team
2000   Edmonton Express – Senior A Canadians – All Canadian Utility Player Award
ISC – St. Joseph. MO
2001-2006 Broken Bow Travelers – 3 ISC Championships
3 First Team All World Catcher Awards at ISCs (2001-2003)
ISC World Tournament MVP in 2001
ISC World Tournament Most RBIs in 2002
2001-2008 Attended Canadian Championships
All Canadian Catcher in 2001 & 2002
2006-2008  3 world tournaments with So Cal Bombers
2009  Aspen Interior Black Sox – ISC World Tournament & Canadian Championships
Second team All World DH Award
Inducted as an Athlete in 2018