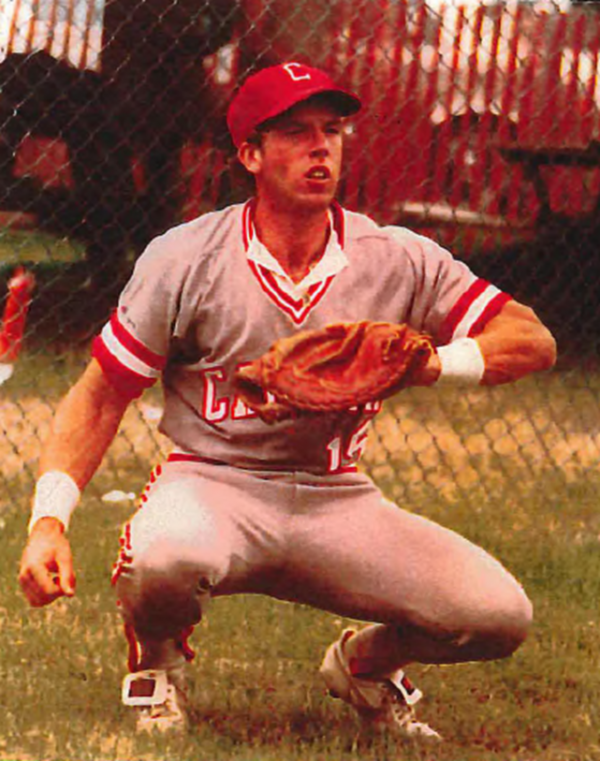 Bruce Marshall has had a storied career on the base paths in Alberta, Saskatchewan and B.C. Over his playing career one thing that stood out anywhere he played was there was never anyone that questioned his ability, his desire, or his commitment to play the game the way it should be played.
Bruce grew up in Wetaskiwin at a time when Wetaskiwin was a hotbed of fastpitch softball in Alberta. He and older brother Clint played with Hall of Famer Glen Jevne growing up and fell under the watchful eye of Softball Alberta Hall of Famer Alister Amer. Their Wetaskiwin Sport Shop team won both the Bantam and Midget Provincial Championships and stayed together long enough to represent Wetaskiwin and Alberta at two Canadian Championships.
Bruce had a habit of following his brother Clint around and played in Fort McMurray one season (1978) helping his team to an Alberta title and in 1981 he moved to join Clint in Terrace, BC where they won the Western Canadian Sr. B Championships.
He then headed to Camrose to be a Merchant and other players around the league knew that he added quality and drive to any team he played on.
The Saskatoon All-O-Matics came calling as they were headed to New Zealand for a January tournament. Marshall joined the All-O-Matics along with Mark Smith and Dan Donohue, Bryan Sosnowski and Jim Jones in 1983. Marshall was a huge addition to the All-O-Matic's taking over second base from long time Saskatoon native and perennial all-star Gerry Friesen. The year previous the All-O-Matic's never turned a middle of the diamond double play. In the first game in New Zealand, the All-O-Matics turned two in the first game and both as a result of a stubborn, determined 2nd baseman named Bruce Marshall.
Many people did not realize that Bruce could also pitch. He was the Saskatoon Molson's (1984) third pitcher in Saskatoon and later in his career he took his talents to New Zealand as a pitcher and came back really strong. He knew how to get people out and would not give in to them.
Bruce was a Triple Crown threat in every tournament or Canadian that he played in. In the storied Saskatoon Rempel Brothers tournament he batted .438, pitched a four hit win and was named the tournament's top hitter and tournament MVP. He was a three time Canadian Champion with Alberta Brake and Clutch / Calgary Otto Mobiles, a 2nd baseman for the 1984 Canadian World team that won a silver medal in Midland, Michigan and in 1985 was an ISC 1st team selection at second base. Bruce's list of achievements speaks for itself:
1977 – Junior 'A' Men's Provincial Champions, Represented Alberta at the Canadian
1978 – Junior 'A' Men's Provincial Champions, Represented Alberta at the Canadian in Saskatoon – Silver Medal, Hit .700
1979 – Fort McMurray Senior Men Provincial Champions
1980 – Westaskiwin Car Capitals Western Major Fastball League
1981 – Fort McMurray Provincial Sr. B Champions
1982 – Camrose Merchants Canada West Fastball League
1983 – Saskatoon All-O-Matic's, Canada West Fastball League, Canadian Silver Medalists – Victoria, BC
1984 – Saskatoon Molson's, Canada West Fastball League, Canadian Silver Medalists – Fredericton, NB
Team Canada – World Fastball Championships – Midland, Michigan Silver Medalists
1985 – Alberta Brake & Clutch
Canada West Fastball League – Canadian Champions – Waterloo, Ontario
Softball Canada All Star 2nd Baseman 8 (Top Hitter)
3rd Place – ISC World Tournament
ISC All World – 2nd Baseman
1986 – Alberta Brake & Clutch, Canadian Champions, Canada West Softball League Champions
11th ISC World Tournament – Kimberley, Wisconsin
1987 Alberta Brake & Clutch, Bronze Medal – Canadian Championships – Calgary, AB
1988 – Calgary Otto Mobiles, Canadian Champions – Kelowna, BC
After 1988, Bruce played on many local teams in Calgary with the friends that he had built relationships with in Alberta. He went to New Zealand twice and pitched fastball for the winter. He was a legend playing Masters Ball in Alberta as he could still mow down the opposition and still swung a lethal bat even when he had not played in a couple of years. Well done Bruce on your amazing accomplishments!
Inducted as an Athlete in 2018